Announcing the 30th Annual Tour of Private Gardens!
Sat & Sun July 9-10, 2016
Six unique and exquisite private gardens:
A large country garden with a tapestry of plants, horses, chickens & ducks
A lush shade garden that welcomes wildlife
A garden designed for vegetables and rainwater
A charming backyard glen
A whimsical garden
Click here for more information »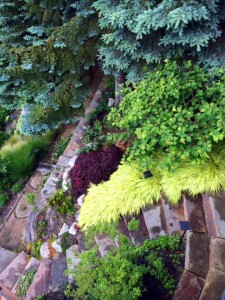 The Whatcom Horticultural Society sponsors a variety of programs, events, lectures, tours, and publications for Whatcom County area gardeners.
We welcome the novice and the veteran; active gardeners and those who love to visit, discuss and read about gardens; those who are visitors; those who are new to the area and those deeply entrenched. We hope we have something of value to offer you all.
WHS was organized in 1989 and was originally known as the Whatcom in Bloom Garden Society. The name was changed to avoid confusion with the Whatcom County Parks annual friendly garden competition, called Whatcom County in Bloom.
The Social Gardener is the society's quarterly journal, filled with stories by member gardeners about plants, gardening, and other garden-related subjects.
Members are encouraged to participate in WHS activities, especially as volunteers during the annual summer Tour of Private Gardens.